Corporate worship is designed to keep you humble by reminding you of your need and thankful by reminding you of God's gift.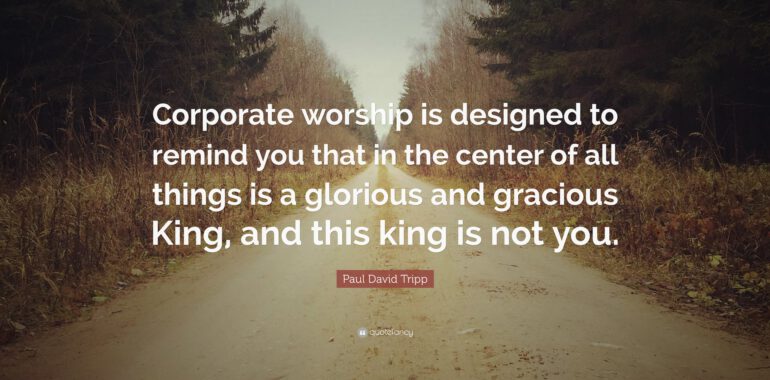 To the unbelieving world, it's just a bunch of foolishness. "Sin? Who cares? Grace? Who needs it? Moral law? I'll make up my own rules, thank you. Heaven? Hell? Nobody believes that stuff anymore. Right and wrong? Who knows? True and false? Who has the right to decide? Just be happy and don't hurt anyone else." You and I live in a world that tells us it's all foolishness. That's why we need to be reminded again and again. There's no way I could say it better than the apostle Paul: For the word of the cross is folly to those who are perishing, but to us who are being saved it is the power of God. For it is written, "I will destroy the wisdom of the wise, and the discernment of the discerning I will thwart." Where is the one who is wise? Where is the scribe? Where is the debater of this age? Has not God made foolish the wisdom of the world? For since, in the wisdom of God, the world did not know God through wisdom, it pleased God through the folly of what we preach to save those who believe. For Jews demand signs and Greeks seek wisdom, but we preach Christ crucified, a stumbling block to Jews and folly to Gentiles, but to those who are called, both Jews and Greeks, Christ the power of God and the wisdom of God. For the foolishness of God is wiser than men, and the weakness of God is stronger than men. For consider your calling, brothers: not many of you were wise according to worldly standards, not many were powerful, not many were of noble birth. But God chose what is foolish in the world to shame the wise; God chose what is weak in the world to shame the strong; God chose what is low and despised in the world, even things that are not, to bring to nothing things that are, so that no human being might boast in the presence of God.
Tripp, Paul David. New Morning Mercies (pp. 662-663). Crossway.